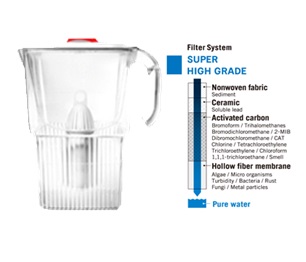 Description
The CP007E incorporates the CPC7E filter which produces high-quality filtered alkaline water.Alkaline water helps your body to maintain its normal pH balance and help flush toxins, leaving you feeling energised and healthy.
The CP007E features a wave design for enhanced durability and is the largest capacity jug in the Cleansui range, making it ideal for providing water for a couple or an entire family. It holds 1.3 litresof filtered water or 2.3 litre total capacity.
The CP007E comes with Cleansui's Super High Grade Filter, which removes all unwanted chemicals such as chlorine, agricultural pesticides and other contaminants, while retaining the healthy and beneficial minerals within the water. The proprietary hollow-fibre membrane filter removes particles as small as 0.1micron, which includes rust, fungi and all bacteria, leaving you with clean and great-tasting water every time. It also improves the taste of tea and coffee and the flavour of food such as pasta and cooked vegetables.
The filter has a 200 litre, or 3 month replacement life*. The modern red & white lid doubles as a manually adjustable calendar dial, making it easy to remember when it's time to replace the filter.
Product Specifications
Model No:CP007
Capacity: 1.3 litres filtered water; 2.3 litres total
Size (mm) W x D x H: 265 x 115 x 300
Weight: (when filled with water): 900g (2,280g)
Initial Water Flow: 0.06 litres/minute
Replacement Cartridge: CPC7E (Can also be replaced with non-alkaline option CPC5E)
Cartridge replacement notification function:Calendar Dial
Filtration Performance
Cartridge Filtration Performance: 13+2 Substances Removed – Super High Grade 5 Star Filter
Filtration Performance/Cartridge Replacement Life:
– Free residual chlorine: 200 litres
– Turbidity (rust, bacteria etc): 200 litres
– Trihalomethanes: 200 litres
– Chloroform: 200 litres
– Bromodichloromethane: 200 litres
– Dibromochloromethane: 200 litres
– Bromoform: 200 litres
– Soluble Lead: 200 litres
– CAT (chemicals, pesticides): 200 litres
– 2-MIB (moulds): 200 litres
– Tetrachloroethylene: 200 litres
– Trichloroethylene: 200 litres
– 1,1,1- trichloroethane: 200 litres
* Cartridge life span/capacity is offered as a guide only and can vary based on region and/or water quality